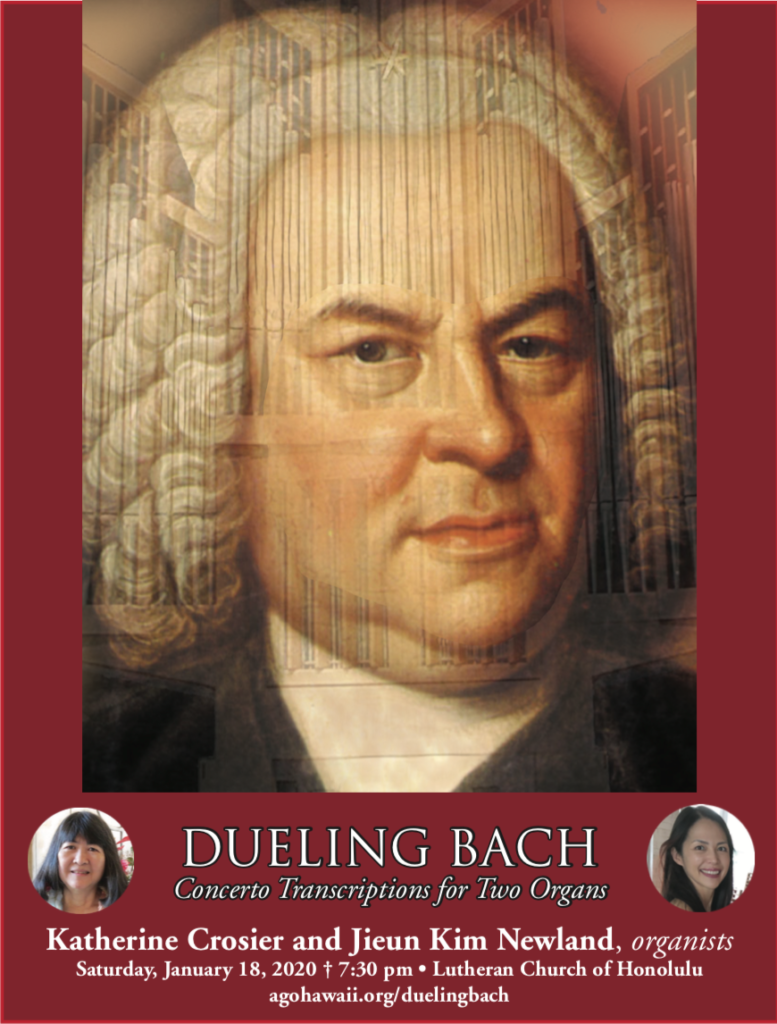 When Bach moved to Weimar in 1708 to take up the position of organist at the court of Duke Wilhelm Ernst, people were abuzz with the music of Antonio Vivaldi. Always an enthusiastic student, and eager to please his employer, Bach went to work and transcribed at least nine concertos of Vivaldi, three for solo organ and six for solo harpsichord.
Katherine Crosier and Jieun Kim Newland have further arranged several of these concertos for two organs, placed on opposite sides of the church, with the aim of exploiting the maximum possibilities for echo effects and infinite colors. In addition, the duet concert will include popular favorites, "Sinfonia from Cantata 29," "Jesu, joy of man's desiring," and Brandenburg Concerto No. 3.
Don't miss this unique concert —if you enjoyed "Organists 1-2-3," you'll love Dueling Bach!
Suggested donation, $25.
Additional parking in adjacent Poki Street lot.
Katherine Crosier grew up in Burbank, CA and began piano lessons at age four with her mother, a pianist who won a competition in high school but pursued medicine as a career. At age thirteen she switched to the organ and studied with Norman Söreng Wright during her high school years, and spent the summer following high school graduation in Paris studying with the French virtuoso, Marcel Dupré. She obtained a Bachelor of Music degree at the University of Southern California, and a Master of Music degree at Westminster Choir College, both in organ performance.
Since moving to Hawaii in 1973, Kathy has been active as a church musician, organ teacher and recitalist. She completed nearly thirty-five years as organist of the Lutheran Church of Honolulu, a position she shared with her late husband, Carl Crosier. She also was the chapel organist of Iolani School for twenty years, and continues now to accompany the Hokuloa Singers and Iolani Chorus for their winter and spring concerts.
Since her retirement from weekly organ responsibilities, she has continued to freelance with Early Music Hawaii, Kona Choral Society, Oahu Choral Society, Hawai'i Vocal Arts Ensemble and Kauai Chorale as well as to teach organ, in addition to traveling to the U.S. Mainland and Europe numerous times over the past five years. She is quite astounded that her blog, www.insanity.blogs.lchwelcome.org (Musings from the Organ Bench), has garnered over 500,000 page views by readers in over 133 countries.
Jieun Kim Newland is an organist and harpsichordist. A native of Seoul, South Korea, Jieun holds a bachelor's degree from the Conservatory of Music at the University of Missouri-Kansas City, and a master's degree from Institute of Sacred Music at Yale University where she studied organ with Thomas Murray, organ improvisation with Jeffrey Brillhart and harpsichord with Richard Rephann. She has served at Grace and Holy Trinity Cathedral in Kansas City, Missouri; St. Andrew's Episcopal Church in Madison, Connecticut; Mercer Island Presbyterian Church on Mercer Island, Washington; and Plymouth Congregational United Church of Christ in Fort Collins, Colorado.
Since her move to Honolulu in 2017, Jieun has had the great honor to collaborate with Early Music Hawai'i, Honolulu Brass Ensemble, Hawai'i Vocal Arts Ensemble, Kona Choral Society, Windward Choral Society and Oahu Choral Society.
She is married to Benjamin J. Newland, an Episcopal priest serving as a U.S. Army Chaplain stationed at Schofield Barracks, Hawaii.